---
JULY NFT STATS
---

---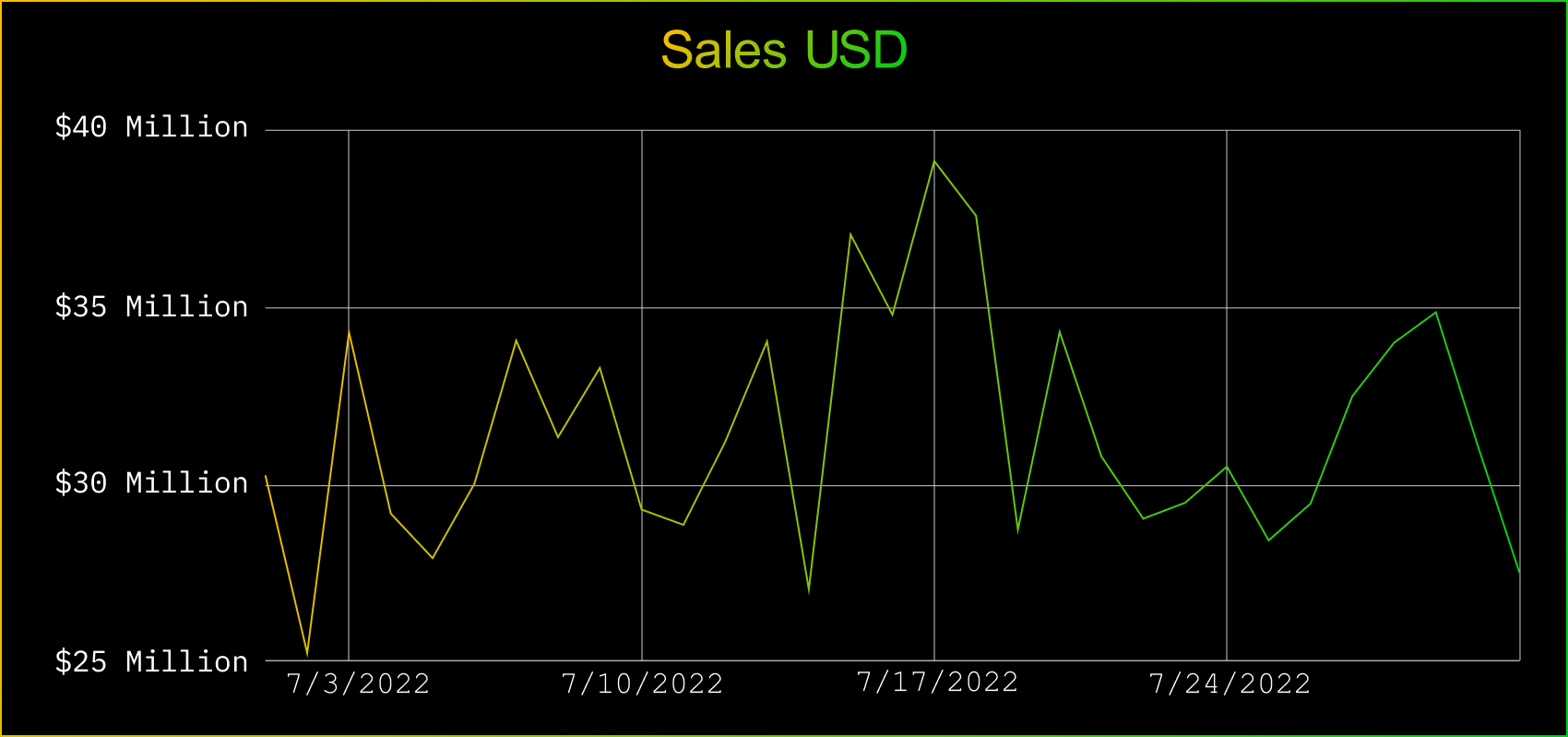 ---

---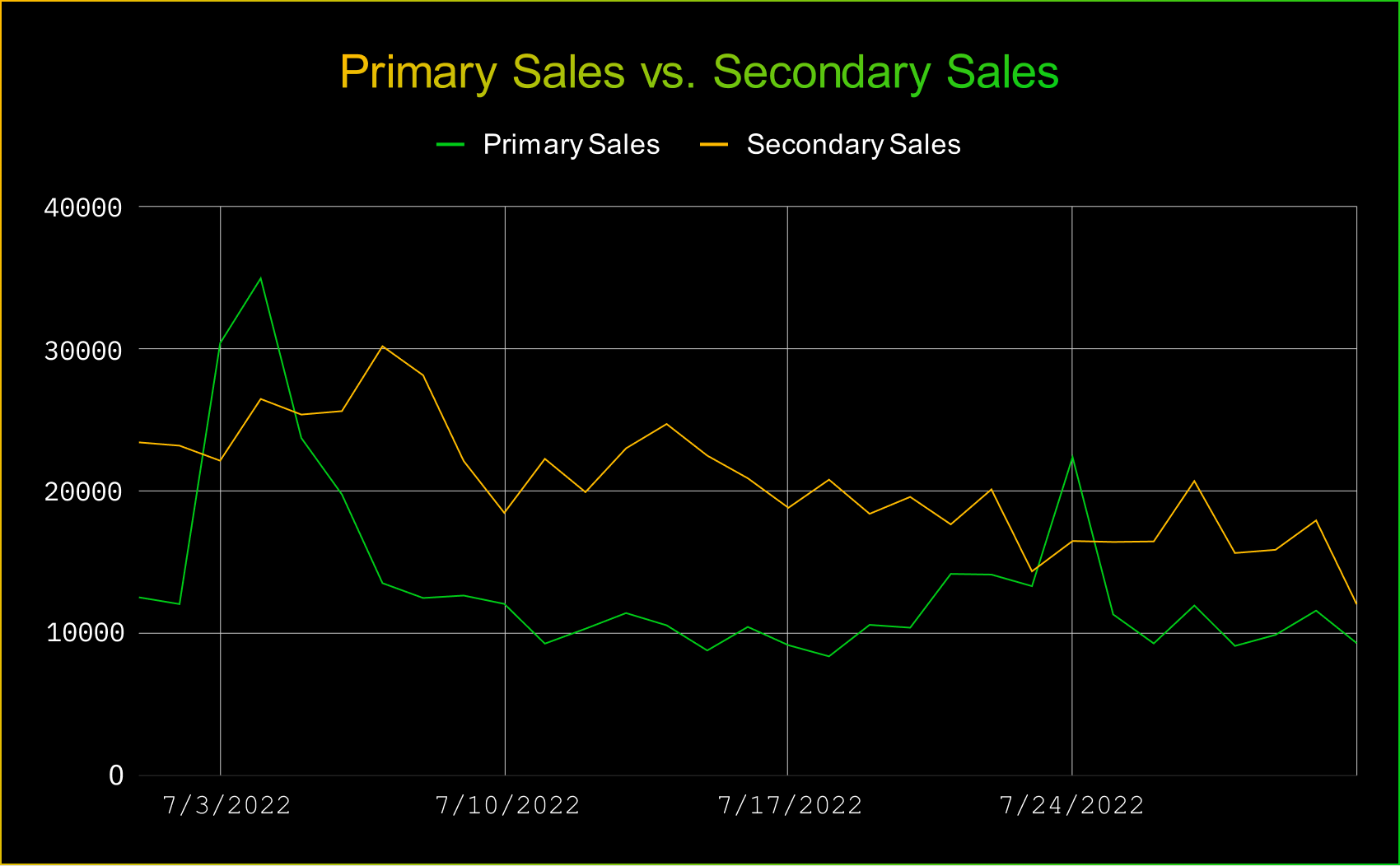 ---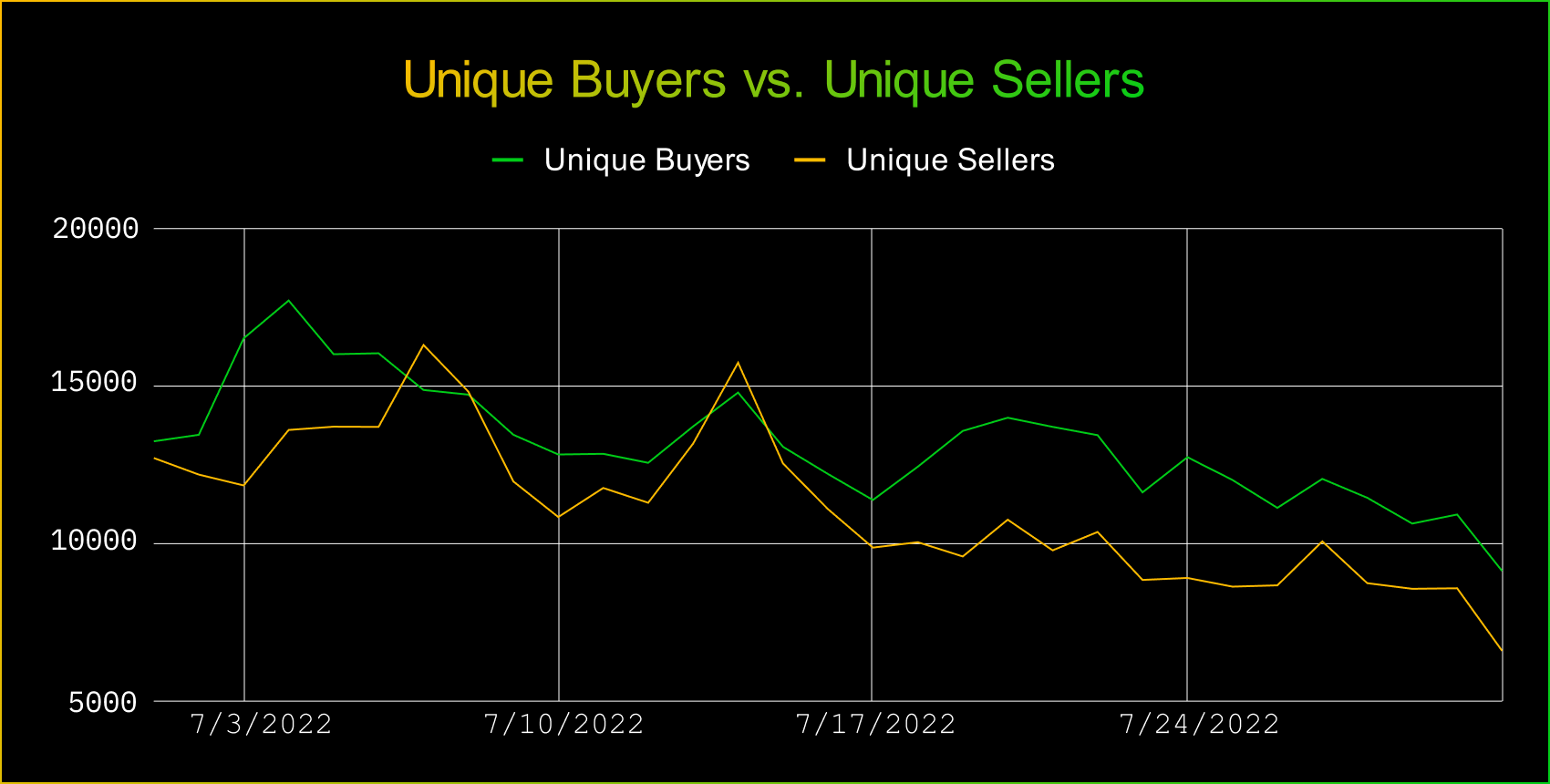 ---
JULY NFT NEWS
---

Square Enix has announced the release of their first NFT series. Square Enix has partnered with Enjin to store their tokens on Enjin's Efinity blockchain. Fans of Square Enix's Final Fantasy VII series will be able to pre-order a physical action figure that comes with a code redeemable for a digital NFT. Square Enix will also offer physical trading cards with a digital NFT component later this year. [1]

Twisted Tea, the popular alcoholic iced tea brand is launching their first NFT project. Twisted Tea is partnering with Sesame3, a web3 platform for brands. Unlike most branded NFTs, Twisted Tea's NFT Drop provides real-world value to users and can be held, sold, and purchased using traditional payment methods without a crypto wallet – making it one of the most accessible branded NFTs to hit the market so far.

To celebrate the launch, Twisted Tea is giving its first-ever NFT to one superfan who will get their photo on the back label of up to 100 million Twisted Tea cans. The winner will be announced on August 3rd, 2022. [2]

LCX, a cryptocurrency exchange based in Liechtenstein, recently lost nearly $8 million in digital assets from a cyberattack. The perpetrator's identity was unknown. Through the public ledger, LCX found the blockchain address that received the stolen assets, and quickly filed a complaint in New York to freeze the assets. Without any other way to contact the anonymous perpetrator, the court permitted LCX to serve the wallet address with an NFT containing a hyperlink to the legal notice.

Every jurisdiction has its own rules regarding service of legal documents. Individuals are usually served personally, through certified mail, or sometimes through an email. This may be one of the first examples of an individual being served through an NFT. [3]

In July, The High Court of England and Wales granted an Order permitting service of Court proceedings via the transfer of an NFT.  The court also held that cryptocurrency exchanges were deemed to hold identifiable cryptocurrency as constructive trustees.
Earlier this year, Fabrizio D'Aloia, founder of the online gambling joint stock company Microgame, filed a claim against four cryptocurrency exchanges — Binance, Polo Digital Assets, Aux Cayes Fintech and Bitkub Online — because his cryptocurrency was stolen by unknown persons operating a fraudulent clone online brokerage.
The Chancery Division of the High Court, granted an order permitting the serving of court proceedings on the defendants through email as well as by NFT airdrop through the transfer of a token on the blockchain and into the two wallets in which Mr. D'Aloia had initially deposited his cryptocurrency.
This ruling is another example of the service of documents and proceedings through the blockchain, which prevents parties from blaming unforeseeable circumstances like lost postal mail for their failure to participate with legal proceedings and enables victims of fraud to serve proceedings on anonymous offenders.[4]


Vleppo and Tokel announced that they have created a digital procedure that will pave the way for the blockchain industry and NFT owners to "establish and enable their legal rights embodied in the NFTs and digital transactions to be made legally enforceable in the courts of law around the world."
The lack of contractual clarity and legal rights  in the enforcement of digital asset transactions is a long-standing problem effecting the the blockchain industry and NFT owners.
This partnership allows NFT owners to create a digital contract by embedding their NFT's on-chain ID directly into the Blockchain record of that same digital contract. An NFT can now act as an immutable evidentiary anchor for the digital contract, forever linking the contract and NFT together.[5]

This July, Web3 subscription and ticketing solution provider Revuto announced a novel subscription model for Netflix and Spotify, using NFTs. The Revolution NFT will offer a lifetime digital subscription for Netflix and Spotify. A total of 10,000 users would be eligible to get their hands on the unique subscription model.  These subscription NFTs can be traded on crypto exchanges, allowing for the growth of a secondary market for these types of NFTs. Revuto plans to introduce more subscription-based services through its NFT solutions as an attempt to put an end to unwanted subscription charges.[6]

The U.K. music division of Warner Bros, Warner Records, has collaborated with audio equipment company Bose to create a new NFT project called Stickmen Toys. The collection will feature 5,000 audio-visual tokens, which will include real-life utilities like access to live events, figurines, exclusive streetwear, and priority spots for future Warner Records developments.[7]

LimeWire, once the world's most commonly used free software for peer-to-peer file sharing for clients on Windows, OS X, Linux and Solaris has been reborn as an NFT platform. The much-awaited NFT marketplace has now opened its waitlist for 10,000 people to join the platform. LimeWire aims to transform the NFT music space. In essence, their plan is to "offer a curated marketplace for high-quality digital collectibles, directly offered by your favorite artists." LimeWire will also be airdropping 10,000 LimeWire NFTs to the 10,000 waitlist users.[8]

Tiffany & Co., is partnering with Chain, a blockchain based technology company to launch NFTiff, an NFT series consisting of 250 limited edition NFTs. The launch will include a series of both physical and digital NFTs made for the owners of CryptoPunks that resemble the NFTs that the holder owns. The jeweler announced that its upcoming sale will begin August 5th and each NFT will be priced at 51,000 dollars per NFT. [9]
Last week Samsung Next announced that it has invested in GenoPets, a move-to-earn NFT game. The GenoPets game already has 250,000 people on its waiting list. Every player will receive a GenoPet NFT, which is upgraded based on physical activity and can be bought and sold on the NFT marketplace. Users can also earn crypto tokens based on physical and virtual activity. The game will include the ability to buy virtual land and habitat NFTs that can be terraformed and upgraded to  unlock advanced gameplay for the GenoPets. Players can also buy or sell their GenoPets NFTs on Magic Eden's NFT Marketplace. [10]
---
SOURCES
[1] Square Enix
[2] Twisted Tea
[3] LCX
[4] The High Court of England & Wales
[5] Tokel x Vleppo
[6] Revuto x Netflix x Spotify
[7] Warner Records
[8] LimeWire
[9] Tiffany & Co.
[10] Samsung x GenoPets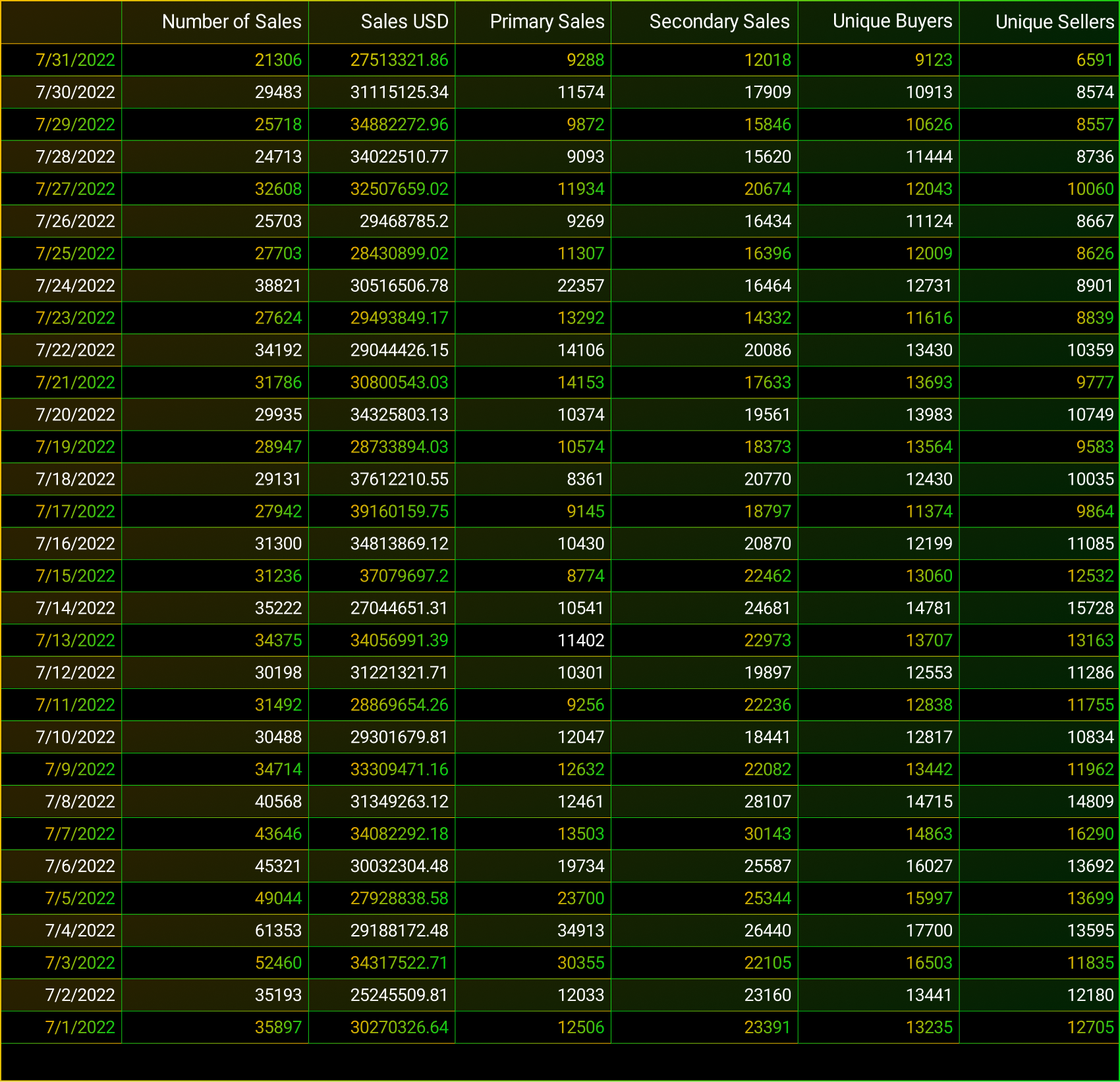 Data Provided by Nonfungible.com