The BAYC collection exists on the Ethereum blockchain and contains 10,000 unique NFTs generated from 172 unique assets.
The backstory is that these apes became so wealthy that they became extremely bored. So now they have a secretive and exclusive club in the swamp. The logo ape skull, shows how the apes are presently bored to death.
Originally under secret identity, Greg Solano, Wylie Aronow, Zechan Ali, and Karem Atalay, worked with artists to create BAYC apes illustrations, logo, assets, merchandise and business model.
The NFTs function dually as a membership card to Yacht Club. Membership to the club includes access to THE BATHROOM (stylized in all caps), a digital graffiti board. -it's the concept of "a shared digital canvas: anyone who bought in could draw on it."
BAYC STATS
The NFTs were originally sold for 0.08 ether each, around $190 at the time of their April 2021 launch and were sold out in 12 hours.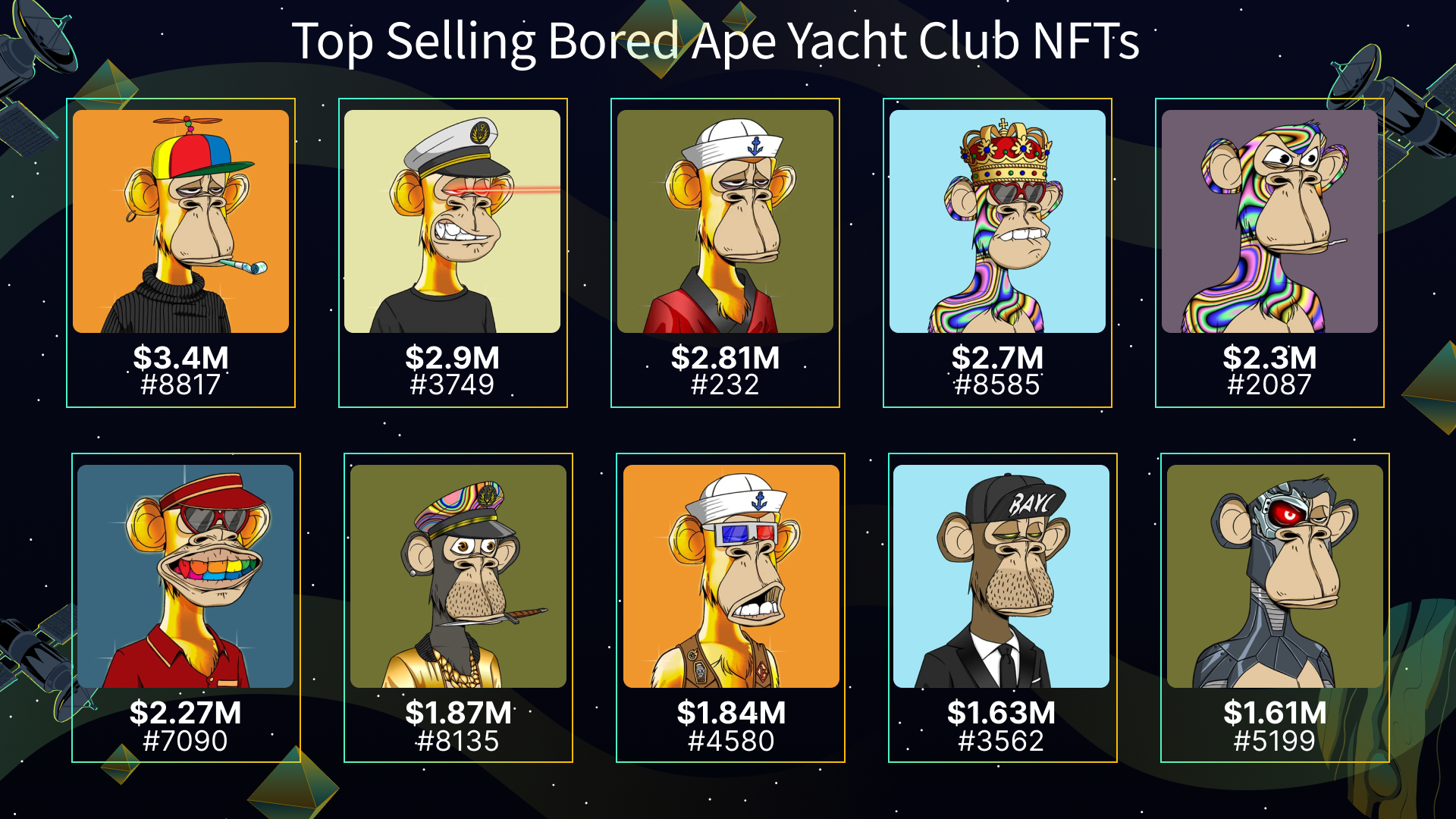 The Perks
In addition to owning a work of historic NFT art — and an asset worth a significant amount of money — owning a BAYC NFT comes with other benefits. The perks outlined in the BAYC roadmap include:
Exclusive online members-only areas
Limited edition merchandise for BAYC members
Real-world events for Bored Ape owners
Free NFTs from both the Bored Ape Kennel Club and Mutant Ape Yacht Club
Yuga Labs has a history of involving NFT holders in some of its decision-making processes, particularly when it comes to donating to charity.
Additionally, anyone who owned a Bored Ape Yacht Club or Mutant Ape Yacht Club NFT was able to claim an Otherdeed NFT within 21 days of the start of the Otherdeed for Otherside sale.
One of the most noteworthy benefits to owning a Bored Ape Yacht Club NFT is that when you own a Bored Ape, you own it in it's entirety — including full commercial rights and the ability to monetize it.
This is unlike most other NFT collections, where collectors and investors are prohibited from commercially marketing the NFTs they purchase. This method of giving owners full commercial rights to their NFT is becoming quite popular among investors.
Bored Ape Yacht Club creator Yuga Labs maintains that the Ethereum-based Bored Ape NFTs are un-rescindable, immutable, and undeletable — all traits that align with the mission of decentralization and empowerment that drives blockchain and Web3.
History

According to the Bored Ape Yacht Club (BAYC) website, the NFT collection was created by four friends who "set out to make some dope apes, test [their] skills, and try to build something (ridiculous)."
Solano and Aronow brought in two friends of theirs, Atalay and Ali, programmers who could handle the blockchain coding. The latter two were knowledgeable in computer science, having studied the field at the same university Solano attended; however, they "were not crypto-savvy," having both written their first lines of Solidity code, a language used for smart contracts, in February 2021
Two of the founders of BAYC, went by the pseudonyms "Gargamel" and "Gordon Goner". The other two founders went by the pseudonyms "No Sass" and "Emperor Tomato Ketchup".
In February 2022, two the founders' identities were revealed to be Greg Solano and Wylie Aronow, respectively, by BuzzFeed News. Zeshan Ali and Karem Atalay revealed their identities shortly after.
The concept behind BAYC centered on early cryptocurrency investors all becoming billionaires:
Now they're just fucking bored. What do you do now that you're wealthy beyond your wildest dreams? You're going to hang out in a swamp club with a bunch of apes and get weird.
Key success factors
A lot of the value and success has come from YugaLabs, which is a pioneering NFT Web3 company.
After Bored Ape NFTs became popular, Yuga Labs hired artists, social media managers, Discord community managers, and a CFO. In response to the popularity surrounding Bored Ape, Aronow stated that BAYC was aiming to be a "Web3 lifestyle company." The company released secondary assets like Bored Ape Kennel Club, Mutant Serum, and Mutant Ape Yacht Club, which has increased BAYC's worth, brought more users into the ecosystem, and rewarded previous holders and investors.
On March 11, 2022 - Yugalabs purchases IP to Crypto Punks and now gives the rights of the the IP to the NFT owners.
Many Bored Ape NFT owners admitted to purchasing their Apes due to the potential marketing and branding projects that can be launched through owning the intellectual property of a Bored Ape NFT.
Seth Green is even in the process of creating an animated series that stars the Bored Ape NFT that he owns, who he has lovingly named Fred Simian.
Samantha Hissong of Rolling Stone wrote that "Bored Ape art isn't as valuable as it is because it's visually pleasing, even though it is. It's valuable because it also serves as a digital identity.
The advent of this second collection last August is when the Bored Ape brand really popped. Seen as doing innovative things with NFT technology, and coinciding with a huge amount of money entering the space that month, Bored Ape Yacht Club started to be seen as the premiere NFT brand.
Both Kennel Club and Mutant Ape NFTs now sell for a lot. The Mutant Ape Yacht Club collection in particular has blown up, with the floor price rising from around $11,500 (4 ether) in November to 40 ether ($116,000) now. (Remember, these were free to BAYC holders.)
Owners
Various celebrities have purchased these non-fungible tokens.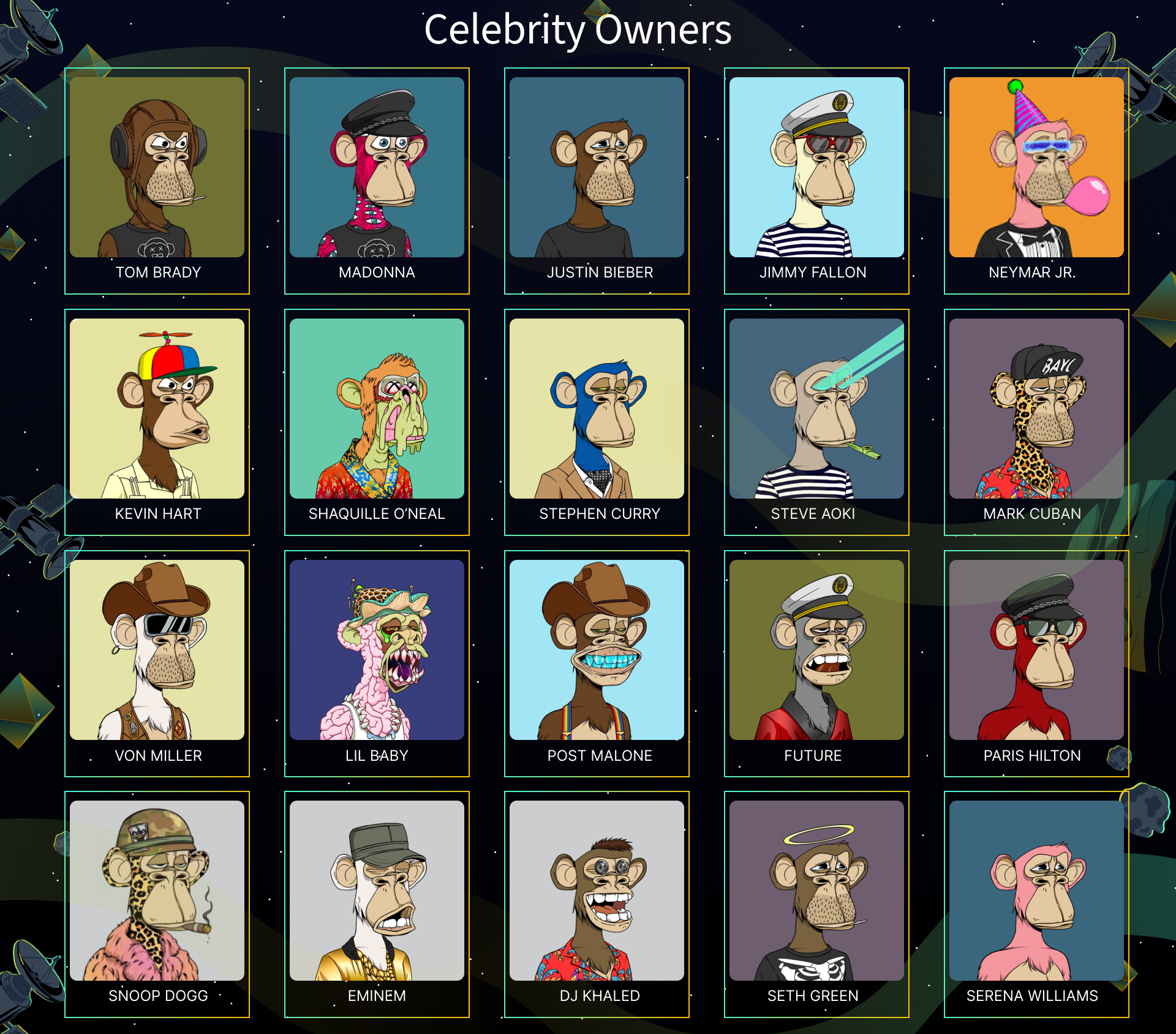 Related Projects
BAYC has many spin off projects, all created through Yuga Labs.

The Otherside NFT Metaverse is the latest development from Yuga Labs.
Otherside aims to be a MMORPG connected to the BAYC ecosystem. In this Metaverse, up to 10,000 participants will be able to use playable NFTs to play and interact simultaneously.
The Otherside Metaverse is very immersive and features playable NFT characters and natural voice chat and will be an ever-evolving world developed by the holders of the Otherside Land NFTs, known as Otherdeeds.


ApeCoin- ApeCoin (APE) is the native currency of the Bored Ape Yacht Club (BAYC) Metaverse. While the Bored Ape Yacht Club is a non-fungible token (NFT) collection that comprises 10,000 images of apes, APE is a fungible ERC-20 token with a maximum supply of 10 billion.  Apecoin holders also are given governance within the Apecoin DAO. The only requirement for membership to the DAO is that one must hold ApeCoin.

Mutant Ape Yacht Club is a collection of up to 20,000 Mutant Apes that can only be created by exposing an existing Bored Ape to a vial of Mutant Serum or by minting a Mutant Ape in the public sale. BAYC holders were able to mint a free MAYC NFT during the launch.

Bored Ape Kennel Club is a collection of pets for the Bored Apes that are not only bored, but lonely in the swamp.
It gets lonely in the swamp sometimes. That's why every ape should have a fur-legged companion. To curl up at your feet. To bring you a beer. To fire a missile launcher at that bastard Jimmy the Monkey.That's why we've started the Bored Ape Kennel Club, and why we're offering up a dog NFT for adoption to every single member of the BAYC – for free (you only pay gas).

Yuga Labs
Yuga Labs is the Driving force behind the success of these collections. Since the explosion of the apes, Yuga Labs have grown into one of the biggest brands in the NFT space. Yuga Labs was founded by Greg Solano and Wylie Aronow. The name Yuga was inspired by a Zelda villain who can turn characters into 2D art.
Since rising in popularity, the full time team has grown and there are staff working on a wider ecosystem including video games, merchandise, physical and digital experiences - looking to be world-class gaming, events and streetwear.
In March of 2022 Yuga Labs announced that they acquired CryptoPunks and Meebits, including IP rights, copyright of art , and a number of Crypto Punks and Meebits NFTs as well.
Yuga is even creating events such as Apefest. In June of 2022 exclusive community gathering in physical world - Pier 17 in NYC - fans and collectors took part in over 4 nights of performances and more, including a performance by Eminem and Snoop Dogg in BAYC form.
---
Did you enjoy this review? Listen to the podcast version to get a more in-depth look at the BAYC.
We'll keep doing reviews in the future,
If you have a collection you'd like us to review, reach out and tell us, you can tell us on twitter @tokelplatform or in Discord.
Resources: